Mazda vehicles come equipped with many different safety features to keep the driver, and passengers safe. With many options coming standard on many of the models, the drive with a new Mazda is like no other. These safety features allow you to focus on the road ahead, with a peace of mind that your car is working hard to add more safety to your drive.
MAZDA RADAR CRUISE CONTROL
This is simple, all you have to do is preset the speed and distance. Then the Mazda Radar Cruise Control will work within those set numbers you have set in order to assist you maintain safe driving distance between the vehicle in front of you.
ADAPTIVE FRONT LIGHTING SYSTEM
The Adaptive Front Lighting System assists the driver to spot upcoming hazards that may be in the road ahead. AFS can do this by providing enhanced nighttime illumination and moving up to fifteen degrees in the direction of your turn.
SMART BRAKE SUPPORT
SBS can help prevent or reduce the impact of a collision, as long as the speeds are above 16 km/hour. The feature will automatically alert the driver and also start the brakes in case of a pending collision.
REAR CROSS TRAFFIC ALERT
We all know that backing out of a parking spot can get tricky. This safety feature can give the driver a warning when any vehicle approaches from the side that and immediately alerts the driver.
LANE DEPARTURE WARNING
The Lane Departure Warning senses the lane markings on the road and will send an alert to the driver. This feature will send out the alert if it predicts the driver is unknowingly departing from its lane.
HIGH BEAM CONTROL SYSTEM
High Beam Control System is a feature that automatically decides if the vehicle needs high or low beams. This is to help the driver quickly spot citizens walking and other hazards, especially when it is dark at night.
BLIND SPOT MONITORING
Weather an object is in your left or right blind spot, Mazda's Blind Spot Monitoring has you covered. A warning light will appear in the mirror on the side where a object is detected in your blind spot.
OBSTRUCTION WARNING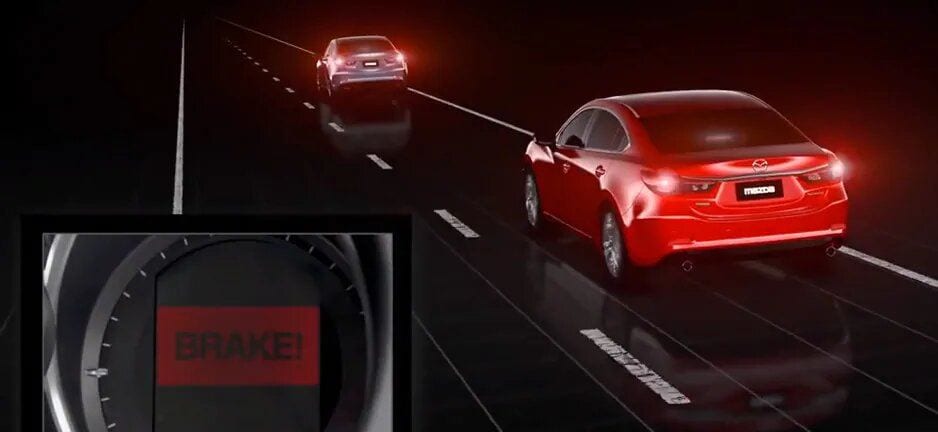 Mazda's Forward Obstruction Warning will prompt the driver if there is any obstruction ahead of them. The system will alert you early enough in order to give you time to try to take the proper steps to avoid a collision.
SMART CITY BRAKE SUPPORT
This feature will prepare the driver to stop if it senses an object in front of the vehicle travelling at a slower speed. If the driver does not take any action, the brakes of the vehicle are then automatically applied.
Questions about Mazda Safety Features?
Hours
Monday

9:00 AM - 8:00 PM

Tuesday

9:00 AM - 8:00 PM

Wednesday

9:00 AM - 8:00 PM

Thursday

9:00 AM - 8:00 PM

Friday

9:00 AM - 6:00 PM

Saturday

9:00 AM - 6:00 PM

Sunday

Closed