Buy Your Mazda From the Comfort of Your Home with Maple Mazda
Welcome to Maple Mazda, the premier and preferred choice for Mazda enthusiasts in Maple, Ontario. Located at 110 Auto Vaughan Drive, with hundreds of Mazda vehicles in our showroom and online, our tools offer our valued customers the ability to shop for their next vehicle from the comfort of their home or mobile device.
We're proud to be the choice Mazda dealership for our valued customers in Maple, Thornhill, Vaughan, and Greater Toronto Area. Whether you're looking for a Mazda3 Sedan, Mazda3 Hatchback, Mazda6, CX-3, CX-5, CX-9, CX-30, or the MX-5, our new Mazda models and quality pre-owned inventory are available for you browse and buy online.
Should You Buy a Mazda Online?
There are plenty of advantages to buying a Mazda online. Our website makes online car shopping easy. You can browse at your leisure and make an informed decision while reading through the vehicle details, and viewing hundreds of photos and videos of any vehicle on our lot, all from the comfort of your home or smart device.
The second advantage of shopping for a Mazda online is you have the opportunity to interact with us directly via phone, text, or our online chat service with live agents. If you have any questions while you browse through our inventory, you can always contact us and our friendly product advisors will happily assist you.
The third advantage (among several others) to shopping for your Mazda from home is our easy to use and innovative online shopping tools. At Maple Mazda, we offer you the ability to personalize your deal to your satisfaction in four easy steps:
Step 1: Find Your Next Mazda Model Online
We carry an ample selection of new vehicles and pre-owned vehicles all available online. Whether you're looking for a sedan, SUV, hatchback, or convertible our website offers you the ability to filter vehicles based on your preferences including colour, trim, interior/exterior options, and price. Once you've found a vehicle you like, you can read through the vehicle highlights, specifications and details to learn more about the vehicle.
Step 2: Personalize your Payments
Once you've decided on which vehicle you'd like to purchase, be sure to personalize your deal your way. Our online tool provides several options, including choosing your payment terms, payment frequency, entering a deposit for your vehicle, and you can receive a free estimation on the value of your trade-in vehicle.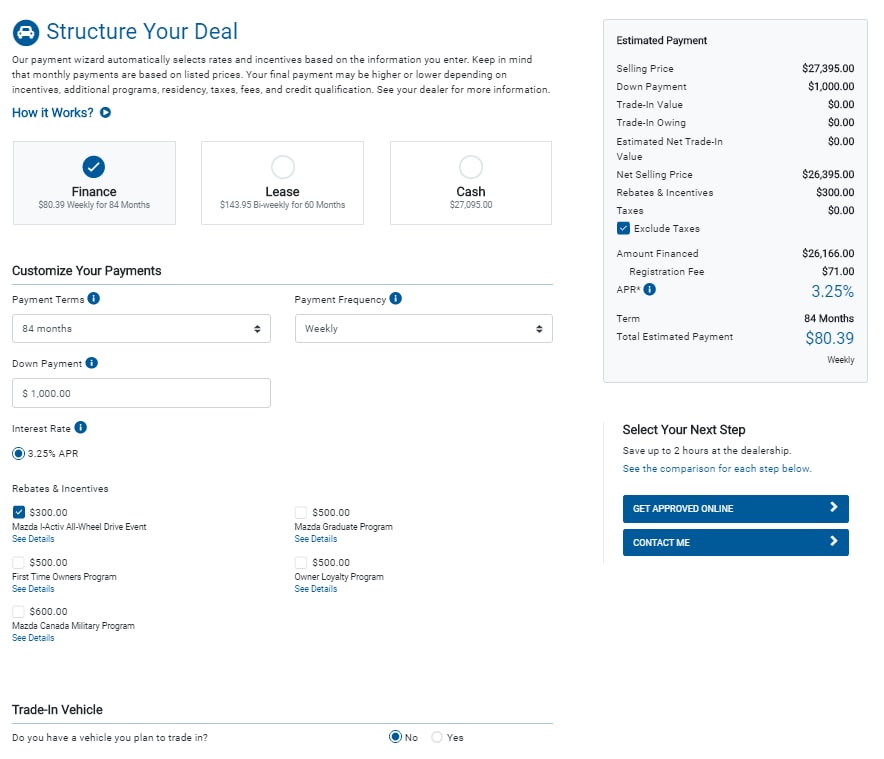 If you're looking to trade-in your vehicle to save more on your next purchase, then we want your vehicle! Our online tools will provide you with a free valuation of your current vehicle. Visit our instant trade-in page where you can enter all of the pertinent details for your current vehicle and receive an accurate estimate on the value of your current vehicle. With our online payment personalization tool, you can enter the trade-in valuation to receive additional discounts on the purchase of your next vehicle while you structure your deal.
Step 3: Book an appointment
Once you've personalized your deal to your satisfaction, complete and submit your information using our secure online finance application and get pre-qualified for your car loan. Once our finance specialists have reviewed your application, they'll get in touch with you to help finalize your Mazda purchase. The final step of the process is booking your appointment to pick up or take delivery of your new car!
We'll help you find the right car!