FAQs About Mazda Vehicles

Preferred Mazda Dealership in Maple, Ontario
Maple Mazda, your preferred Mazda dealership in the region, offers a vast selection of new and used vehicles. You can browse our inventory online or come to the dealership to experience the vehicles in person. We offer a wide selection of vehicles for the residents of Vaughan, Maple, Thornhill and Greater Toronto Area. It's a short trip to our Maple, Ontario dealership.
Design Mazda Vehicles
Mazda designs vehicles with an elegant aesthetic, combining style, performance and technology to create a line of vehicles that are both beautiful to look at and fun to drive. Mazda's technology features are top-of-the-line and intuitive to use. Through ergonomically designed seating, you get a comfortable ride for drivers of all ages.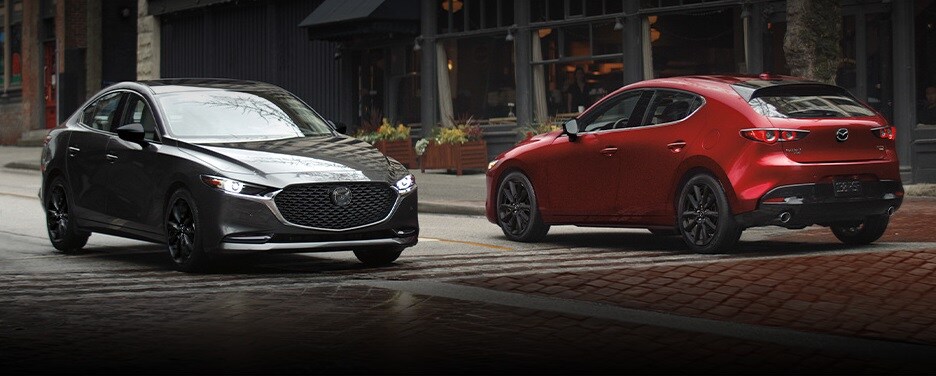 Mazda Reviews
Mazda earns stellar reviews from entities like JD Power and Associates. Mazda's are noticed for its exceptional attention to detail, from interior detail to exterior styling. Drivers note that they are drawn to the exterior designs and love the minimalistic interior. The ability to calibrate the sensitivity of safety features is also a big plus with reviewers.
FAQs about Mazda Vehicles
What is SkyActiv Technology?
Mazda vehicles use SKYACTIV technology to enhance the engine's performance further. These engines are designed to offer the best combination of power and fuel efficiency. This engine's style provides the capability of diesel combustion with the emissions of gasoline. Using regular gas plus a technology called Spark Controlled Compression Ignition (SPCCI), the engines compress the combined air and fuel so that the vehicle needs to use much less fuel to move. They allow for complete burning of the fuel, which leads to lower overall emissions than an engine that operates at a lower temperature and pressure. Mazda cars are also lightweight, which adds to their fuel-efficient nature.
Mazda vehicles feature i-ACTIVSENSE, a proprietary sensor that allows your vehicle to sense when another vehicle or the stationery object is too close and helps you brake to avoid a collision. The ITS feature studies traffic congestion to recommend a route with less traffic. Acceleration control will prevent sudden acceleration that can lead to loss of traction.
Who is the owner of Mazda?
Mazda Motor Corporation is 6.3 percent owned by Japan Trustee Service Bank, the Master Trust Bank of Japan, five percent by Toyota, and 2.2 percent by Sumitomo Mitsui Banking Corporation. Mazda's head offices are based in Fuchu in Hiroshima, Japan.
How long does Mazda last?
Considering regular use, service, care, and maintaining parts' integrity, Mazda cars can drive past 400,000 km with proper care and maintenance. Mazda is famous for building solid engines. Many customers have mentioned their Mazda crossed 320,000 km and did not need any significant upgrades or changes. For more information, schedule a service or parts appointment to learn more about Mazda and how long your vehicle should last.
Is Mazda as good as Toyota?
According to recent customer reports, Toyota and Lexus have secured a score of 74 and 71. They are the second and third most reliable cars. Mazda has been at the top of the list with a reliable engine by staying true to its manufacturing formula. Mazda secured an above-average score of 83.
What is the most Affordable Mazda model?
The CX-3 is the cheapest model that Mazda offers. It is available in only one trim.
Is Mazda a luxury brand?
When you look at the prices, Mazda is a brand with luxury features but a pricing bracket below that of the average luxury car.
How much is it to lease a Mazda?
There are different lease classes based on the vehicle you want and the amount of time you are using the car. The best way to get an accurate estimate is to pick a model and trim, then contact us to confirm the pricing.
Does Mazda provide loaner cars?
Our Mazda dealerships offer 14 loaner cars across all locations.
Contact us
Contact us at Maple Mazda today, and Our trained sales staff are ready to answer any questions you might have regarding Mazda vehicles. You can apply online to our secure financing application for fast pre-approval through our finance centre. Our Finance Centre also offers the benefits of leasing a Mazda vehicle.
Questions?
Your privacy is important to us.
Infiniti Of Brampton takes your privacy seriously and does not rent or sell your personal information to third parties without your consent. Read our privacy policy.